Sculpture park, Engelsberg, Sweden. /Site specific
installation, (sculpture).

Text: Magda Fabianczyk
Young trees well densely planted inside of a squareshaped
wooden structure, with no entrance. Visitors
could observe the slow growing process through
the gaps in between the wooden boards. After
dismantling the wooden frame trees were found
to be taller yet remaining the rectangular shape.
With time they lost initial form and became hard to
distinguish from the surrounding them forest.
Site specific installation, (sculpture), Karl Larsson, 2008. (w. Stanislaw Boniecki och Magda Fabianczyk)
<![if !vml]>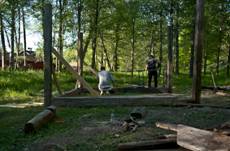 <![endif]><![if !vml]>
<![endif]><![if !vml]>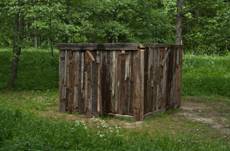 <![endif]>

<![if !supportMisalignedColumns]>